A brush with greatness.
I often talk of brand evangelism on this site. Now's the time to practice what I preach.
If you are a guy past puberty, buy one of these: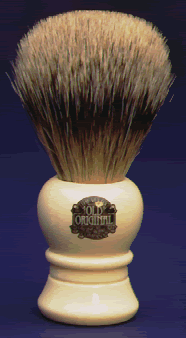 This is the Vulfix #2233 Super Badger Shaving Brush, lovingly hand-crafted on the Isle of Man. The first time I used this baby, my face was smoother than a snooker ball.
It was recommended in a detailed article on attaining the perfect shave, so I gave it a try. Now I'm talking about this thing so much, my wife thinks I've joined a Tantric shaving cult.
I procured mine from the link above, ClassicShaving.com, and they were extremely responsive. I also picked up an old-fashioned shaving mug, soap, and a Merkur safety razor which I have yet to get the hang of. (That's why I also bought a styptic pencil.)

But you must get this brush. Rush out now in a buying frenzy!